Bebè e amici a 4 zampe?
Scopri la copertina dell'amicizia!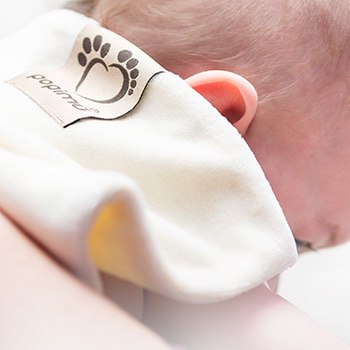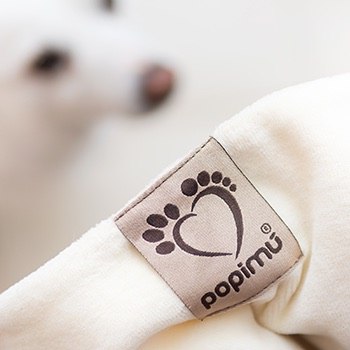 Popimù is the cover born from the need of families with pets at home and waiting for a baby. Popimù is designed to encourage the acceptance of the child by the pet.
Domestic animals know reality through smell, one of the most important senses, as is our sight. They gather information about their surroundings with olfactory exploration that can make their behavior unpredictable when faced with a new smell.
Popimù, designed and created with innovative, organic and hypoallergenic fabrics, is the best way to collect the baby's smell and take it home to the pet in order to get used to it.
Popimù, used in the 24 hours after giving birth, collects the smell of mum and baby thus allowing a positive association for the pet.
Animals know the world through smells and Popimù is the best way to let them know your child.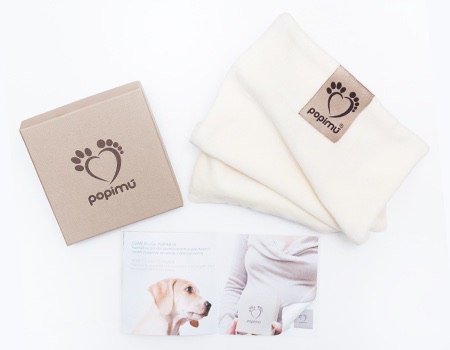 Popimú® evolves from the attention given to families and their four-legged friends. Our pets are constantly with us, we must therefore involve them in all the great changes that can occur at home, beginning with one of the most important events: the birth of a baby.
An event to which the pet must be prepared respecting its cognitive modalities. With Popimù® you will be able to bring home the baby's smell and anticipate its arrival.
By sniffing Popimù®, the pet will become familiar with the new smell and when the child arrives home he will recognize him as a member of the family.
Popimú® is made from organo-biological cotton made to Global Organic Textile Standards (GOTS). The cotton used is grown without the use of fertilizers or pesticides. This makes our product safe for both people and the environment.

Using Popimù® is the best way to introduce the newborn child to our four-legged friends. As cute as a baby's first smile, the friendship between a child and their pet will be just as strong as the first day. That's why we think it's very important to introduce the baby to their pet with a good start.
We believe in a life based on the respect of animals and nature that surround us, with all their colours and perfumes and with all of their wonders.
And this is the reason why we chose to work respecting the environment, selecting only biological fabrics and reserving us the privilege to act in a responsible and safe way. Because after all, to love something, means to respect it.


"Animals know the world through smells"